Advanced Software and Global Networks Stream 4K 3D Digital Movies from Poland to the U.S.
July 17, 2013.  On June 25, 2013, in a special demonstration for the first annual US Ignite Application Summit held in Chicago in the U.S., computer scientists from Poland's Poznań Supercomputing and Networking Center (PSNC) streamed ultra-high-resolution 3D movies over high-performance optical networks to the Electronic Visualization Laboratory (EVL) at the University of Illinois at Chicago (UIC). These films were "4K" resolution, a digital cinema standard that is slightly more than four times the resolution of high-definition television (HDTV). Because EVL does not have a large auditorium with the necessary equipment typically used to display stereo movies at large institutions and movie theaters – a more unconventional "guerrilla tech" approach was needed. Using unique software being developed by the global research community, PSNC and EVL streamed the movies from PSNC servers to a large 3D-capable tiled display wall in EVL's high-tech classroom. Reliance on software, not expensive hardware, is the way ultra-high-resolution 2D, and eventually 3D, movies will be distributed to research labs, classrooms, offices, and homes in the future.
Specifically, UltraGrid video and audio streaming software, developed by CESNET and the Institute of Computer Science at Masaryk University in the Czech Republic, was used to stream uncompressed movie files from Poznań to Chicago. Originally, each 3D movie was actually two movies – a movie for the left eye and a movie for the right eye – which are typically displayed using two projectors with polarizing filters such that the images overlap on the screen, and viewers wear passive stereo glasses to view them. However, to stream to EVL's 3D tiled display wall (which still requires viewers to wear passive stereo glasses), PSNC had to interleave the rows of each frame of the two movies – such that alternating rows displayed left- and right-eye images – and create one movie file.
At EVL, the UltraGrid receiver sent the interleaved movie frames to EVL's SAGE (Scalable Adaptive Graphics Environment) software, which formatted and pushed the movie frames onto the tiled display wall. SAGE is a high-performance windowing environment, so in addition to displaying the movie, SAGE was used to create additional windows that contained supporting documentation about the films as well as a video-teleconference portal to PSNC, enabling collaborators to interact with the US Ignite audience.
UltraGrid and SAGE, both open source software, were initially developed to harness the power of high-performance networks, so that very-large data files could be stored at the source, enabling the latest information to be downloaded on an as-needed basis and eliminating the need to replicate the data at multiple locations. The development of such tools and techniques is very much a research area, and access to advanced networks for application experiments and tests is made possible by a global consortium of network owners and providers known as the Global Lambda Integrated Facility (GLIF). Using the GLIF optical fiber infrastructure, a 10 Gigabits-per-second (Gbps) private network path was created for this event and data was transmitted between Poznań and Chicago at an average rate of 3.4 Gbps. Data went from PSNC, over Poland's PIONIER network, to NetherLight, a major network exchange in Amsterdam, then over the U.S. NSF-funded transatlantic network ACE (America Connects to Europe) to StarLight, a major network exchange in Chicago, and then to EVL over UIC-owned fiber. The Metropolitan Research and Education Network (MREN), the Midwest regional Research & Education Network, also provided networking. The total length of the fiber link connecting PSNC and EVL was approximately 10,000 km.
The US Ignite organization fosters the development of next-generation internet applications for transformative public benefit, so PSNC selected three beautiful historically and culturally educational films about Poland to share with the audience: a 3D animated "History of Poland" and a 3D computer-graphics recreation of "Jan Matejko's 'The Battle of Grunwald'" painting – both created by Platige Image Studio – and a 3D movie of modern-day Poznań created by PSNC. The special demo for US Ignite took place over a three-hour period; 250 attendees were assigned specific 15-minute time slots, as EVL could comfortably handle 25 people in its classroom environment. For all 10 shows, the network streaming worked flawlessly, enabling audiences to enjoy the films' artistry and stories.
Joe Mambretti of the International Center for Advanced Internet Research (iCAIR) at Northwestern University and Maxine Brown of EVL, who are part of the consortium that manages the StarLight International/National Communications Exchange Facility, served as hosts, providing the audience with some background about the GLIF infrastructure and the software used. PSNC collaborators Maciej Stróżyk and Maciej Glowiak endured the 7-hour time difference to participate via video-teleconference and provide information about the films and answer audience questions. Additional staff in Poland, Amsterdam and Chicago provided networking and technical support.
PSNC has shared this content previously with members of the CineGrid organization, an international, interdisciplinary community focused on the research, development, and demonstration of networked collaborative tools to create, use, preserve and exchange very-high-quality digital media over optical networks. While most CineGrid events are held in auditoriums with adequate equipment – notably projectors, frame buffers and compression boxes – UltraGrid and SAGE software have also been demonstrated and used by CineGrid members. This is the first time, however, that UltraGrid and SAGE were used to stream interleaved 3D movies to a tiled display wall.
The ability to stream any digital media – but more so 4K movies (and now 8K, which is becoming a standard), and 3D movies – over high-performance networks is still a research effort, and special events, such as conferences, serve as a motivating influence to push the envelope. As technologies such as UltraGrid, SAGE and tiled display walls mature and become more ubiquitous, they will enable broader dissemination of ultra-resolution information, for teaching, remote collaboration, telemedicine, museums, and the arts and entertainment.
For more information:
The CESNET Association was founded by Czech universities and the Academy of Sciences of the Czech Republic in 1996. It is engaged in research and development in information and communication technologies and builds and develops the CESNET national e-infrastructure for research and education. With its research activities and accomplishments, CESNET represents the Czech Republic in international projects, most notably the pan-European GÉANT network building project and grid projects (EGI.eu), and participates actively in their implementation. Among other things, the association deals with the use of high-speed networks for sharing multimedia data both through synchronous video conferencing and shared applications and asynchronous streaming.
Photos
Joe Mambretti, iCAIR, introduces Maciej Stróżyk and Maciej Glowiak at PSNC and asks if the audience has any questions for them as the 3D recreation of "Jan Matejko's 'The Battle of Grunwald'" painting, in the window behind him, finishes streaming on EVL's tiled display wall.
US Ignite attendees watch the 3D animated "History of Poland" on EVL's tiled display wall. Maciej Stróżyk and Maciej Glowiak of PSNC appear in a video-teleconferencing window.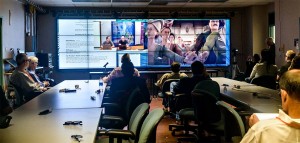 Press release, July 17 2013
Last change: 18.7.2013