CESNET wins Czech Head award in the Industry category for audio and video transmission with minimal latency
Prague, 5 December 2022. CESNET received the Czech Head award, the country's highest scientific acknowledgement. An expert jury recognized its solution for video and audio transmission via a computer network across large distances with exceptionally low time latency. The Industry award from IDEA StatiCa, given as part of the Czech Head competition for the best company innovation, was accepted during the gala ceremony last night in Prague by head of the CESNET Networking Application Technologies department dr. Sven Ubik, whose team created the prized solution.
The device, named MVTP technology (Modular Video Transmission Platform) enables direct remote collaboration in critically sensitive areas in terms of communication latency, such as live culture.
"Our objective was to bring new ways of collaboration, education, interpretation and presentation in culture. We wanted to provide more options for communication among artists, teachers and students, support innovative ways of cultural exchange at a European level by offering attractive presentation of music for the young generation, to attract it to the world of classical music," said Sven Ubik.
The typical video conference latency is around 200 milliseconds, which does not permit remote collaboration in live culture. The signal delay in optical fibre networks on the European scale is 10 to 20 milliseconds, which verges on usability for remote teamwork of musicians. We therefore conceived a device for video and audio transmission that could work with minimal added delay. The result is a transmission device that reduces the sender and receiver latency, including video compression and decompression, to 1-3 milliseconds. That said, the video quality surpasses the HDTV production standard. No similar product is available on the global market.
This CESNET device enables a brand new form of collaboration and cultural exchange, while saving both time and travel costs. Examples include remote connection among valuable historical musical instruments and remote play of musicians with an organ, which cannot travel.
"Communication among musicians across Europe is important for sharing various interpretations and enriching experience. It is about a part of European intangible cultural heritage," Sven Ubik explains, and adds: "This opens up a wide range of possibilities. For instance, you can organize remote admission exams, which may improve the quality of the Erasmus scheme, as it eliminates the current practice of sending audio recordings, and applicants do not need to spend money on long-distance travel."
The music domain is not the only one where the MVTP finds application. Low-latency transmission solutions have been used for remote voice examination, streaming of surgeries enabling communication with the surgeon, and remote collaboration using shared 3D models. The technology has enabled cross-border collaboration of institutions, has been used for NPAPW international workshops on promoting collaboration in live culture and during projects of supranational academic internet networks such as GÉANT in Europe, Internet2 in the USA and APAN in Asia.
That said, music performances are still the most frequent application. Recently, for example, a concert was organized in early July on the occasion of the Czech Republic's Presidency of the EU Council, symbolically connecting the Czech Republic and Belgium. The concert took place simultaneously in the HAMU hall in Prague and in the LUCA School of Arts in Leuven.
The MVTP technology connected Czech musicians in Prague and Slovak ones in Košice during a joint benefit concert to help Ukraine in March this year. The concert made use of three simultaneous low-latency video transmissions. Another concept connected musicians during the Prague Clarinet Days festival at the HAMU in Prague and the Sommerakademie at the University of Music and Performing Arts Vienna.
In 2020, CESNET organized a concert in honour of the memory of Father Josef Toufar. The technology enabled joint performance by musicians in four churches in Prague located symbolically on the arms of an imaginary cross. On the occasion of the presentation of the Václav Havel Human Rights Prize in 2018, a concert was organized that connected musicians and audiences between Prague and Bratislava. In 2016, the technology enabled a joint performance by two organists, Jaroslav Tůma in Brno and Jon Skogstad in Trondheim, across a distance of more than 2 thousand kilometres.
For its contribution to collaboration in live culture on a European scale, the MVTP technology and its applications received the 2020 Europa Nostra Award / Creative Europe Award from Europa Nostra and the European Commission.
The MVTP was developed in the Czech Republic as part of the projects Remote Collaboration in Artist Education Using Modern Transmission Technology (TL01000106) and Equipment for Low-latency Transmissions of JPEG XS Video (FW01010230), supported by the Technology Agency of the Czech Republic under its ÉTA and TREND programmes, as well as CESNET's own research and development. In said projects, CESNET collaborated with the Faculty of Music and Dance of the Academy of Fine Arts in Prague and the companies DISK Systems and AV MEDIA.
How MVTP works
It is a standalone device, i.e., without a PC or software, easy to use even for workers outside the IT domain. It is based on a programmable gate array (FPGA) and employs a unique solution for a low-latency receiver, comprising a circuit connection on a printed circuit board with a digital design in VHDL language.
Depending on the version, the unit enables video transmission in HD or 4K resolution with TICO or JPEG XS compression. The transmission is always both ways. Compared to a PC and software, the device has high energy efficiency and permits continuous operation even under full load, making use of passive cooling. It is therefore absolutely silent and ideal for concert halls or recording studios.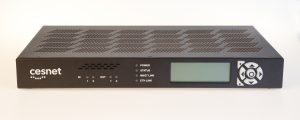 MVTP device for low-latency transmission
You can find more examples of use on the website: http://mvtp.cesnet.cz
Award-winning team of the Department of Technologies for Network Applications of the CESNET association (from left: Jiří Melnikov, Matěj Bartík, Sven Ubik, Jakub Halák, Martin Kolbe)
The CESNET Association
was founded by various Czech universities and the Czech Academy of Sciences in 1996. Its objective is the operation and development of ICT services that comprise the national e-infrastructure for research, development and education e-INFRA CZ. Integral components of its activities include research and development in information and communications technology. CESNET is an active partner in numerous international research infrastructures, such as the Pan-European GÉANT research, development, and education network, the European Grid Infrastructure EGI.eu and the European infrastructure for open science EOSC. For more details, visit www.cesnet.cz and www.e-infra.cz.
Czech Head
is the biggest project for advancement of Czech scientific and technical intelligence. It was established in 2002 on the initiative of intellectuals headed by Arnošt Lustig and Professor Antonín Holý. Czech Head is not only the highest scientific award, but also a series of interconnected projects aimed at popularization of science, research and education for the general public as well as assistance in making suitable conditions for effective connections between research and manufacturing practice and setting of conditions to enable and promote such synergies. Czech Head awards for science, research and innovation are handed out in several categories. For more details visit: www.ceskahlava.cz.
The MVTP was developed in the Czech Republic as part of the projects Remote Collaboration in Artist Education Using Modern Transmission Technology (TL01000106) under ÉTA, and Equipment for Low-latency Transmissions of JPEG XS Video (FW01010230) under TREND, supported by the Technology Agency of the Czech Republic.

Last change: 8.12.2022